The wine by the glass
Rent or buy?
Digby, an investment to grow revenue.
The Digby by the glass dispenser is a cost-effective work instrument. With an offer less than 200€ per month for a dispenser of 4 bottles, the machine becomes profitable from the first month. Only 2 glasses per day are enough to generate a profit.
You can now consistently offer quality wine because it can be kept 3 weeks without altering its organoleptic properties. Take the opportunity to expand your wine menu. The risk is totally controlled!
A leasing-sale option is offered for 3, 4 or 5 years with all our dispensers, including a guarantee and the maintenance during this period.
Find out the features and performances of your DIGBY!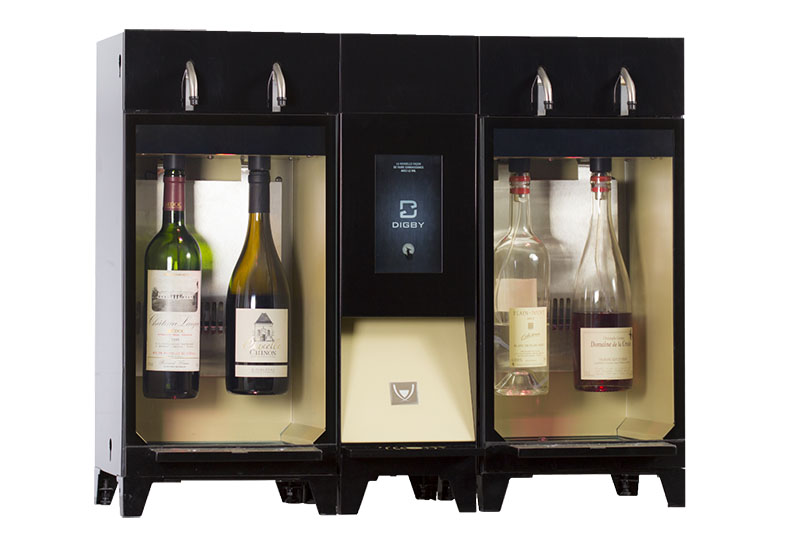 The wine
long time conservation
Patented hermetic holding system.
For all types of bottle, including magnums.
Protection of the wine by introducing neutral gas.
Special glass filtering UV light for maximum protection.
Stabilized temperature per module.
The touch-screen
Simple and Fun
Displays details on the wine : vintage, varietal, region, tasting notes …
Simple and fun to use.
Maintenance screens are easy and user-friendly.
You can broadcast images and videos of your choice.
The connected features allow a full remote control.
Flexible
Modular design
The assembly of your dispenser is done by modules of 2 bottles.
Up to 12 bottles of wine by machine.
The temperature is adjustable by module.
Precise and settable pouring volumes.
Colored LED lighting.
RFID
Dare self-service
RFID card reader included in all products.
Use preloaded or debit cards.
USB RFID reader with Digby software to easily loads the cards.
The access to your wines is secured.
Compatible with hotel room cards and club cards.
Space
Easy integration
The dispenser can be encased or simply placed on a table.
Easy and Plug&Play to add a new module: no need to change the existing installation.
One simple electrical outlet is needed.
DIGBY is introducing its new piece of furniture!
Connected device
Manage everything remotely
Total access of your machines.
Notifications on empty bottles.
Enter all the wine details from your computer.
Set all parameters, pouring volumes, prices, temperatures …
Statistics and overall income.